Make your next party a
MUSIC NOW
karaoke party!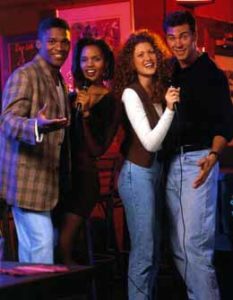 State of the art karaoke DJ setup displays the lyrics in time while you sing!
Amazing library of Karaoke songs! Hundred's of titles to choose from!
Professional DJ prepares everything ensuring that you have FUN at your own party!
MUSIC NOW has many options available to customize your party. Just ask us!
Music Now's Rental Department also rents
Portable Karaoke Systems which include
• Dual microphone mixer with Mic1 and Mic2 volume controls and Echo control
• Support AVI, JPEG, Kodak, and MP3 file formats
• Cassette recorder with direct recording and play
• Key Control, Tempo Control, Voice Cancel, and Song reservation
Also multiple songbook listings.