Music Now Dj's conform to the following conduct guidelines at all events:
Dress Code: Tuxedos can be worn at all formal functions. Unless otherwise specified, a suit , sports jacket , or casual professional attire will be worn at all other functions. Client's special dress requests are exceptions.
Stage Setup: DJ equipment and accessories will be neat, orderly and set up in a manner that not only looks professional, but also protects against any person being harmed by tripping over cables, power cords or speaker stands. Loose wires are taped down.
Volume: The volume of the performance (particularly during the cocktail hour and throughout (lunch/dinner) will be set at a moderate level that permits comfortable conversation at the tables (without yelling). It is normal to increase this volume for dance music after the meal as judged necessary by the DJ based on the size of the audience. The client and/or the onsite event coordinator have the final say.
Conduct: Professional Disc Jockeys do not drink liquor, eat or smoke on stage while in the midst of a performance. Being fed at the function is a courtesy that is the option of the client. If invited to eat, the meal must be eaten off stage. Coffee, soft drinks, fruit juices or water are permitted on-stage or off.
Music Selection: The music at the function should be based not only on requests from the client and the audience but also on the DJ's experience. Music Now DJs "read the crowd" and then select the best mixture of danceable music to make the function enjoyable for every age group. DJ Request Songlists are available.
Announcements: As Master of Ceremonies, the DJ will handle all formal and informal announcements throughout the function. Our experienced MCs are very careful never to say anything inappropriate over the microphone or embarrass or insult any member or segment of the audience.
Evaluation: A self-addressed, stamped evaluation can be requested by the customer, completed & returned following a performance. In this manner, all of our DJs are subject to frequent, honest reevaluation based upon the customer's observations and comments.
Meet Our Staff
Experience * Attitude * Pride * Knowledge * Personality * Prompt * Courteous
Every DJ on our team can perform as Master of Ceremonies, handling all formal announcements.
The stage is always set in a neat, professional manner with all cords safely taped down and the DJ equipment appropriately skirted.
Our DJ's always come dressed to impress wearing Tuxedos at all formal functions.
However, we will dress to match any occasion!
CALL US NOW FOR MORE INFORMATION!
831-423-4423
OR
E-Mail Music Now
info@musicnowdj.com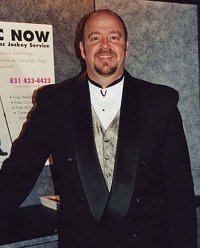 Before becoming the owner of Music Now DJs. Jack Crawford started with the company in 1988. His ability to read a crowd and his vast musical knowledge have made him a client favorite. He is probably one of Music Now's more well known DJ's in the area. Jack DJs and performs at several of the Charity and Chamber of Commerce events as well as performing at many other public events in the Santa Cruz and Monterey Bay area throughout the year.
One of Jack's main attributes is his clear, strong voice which he honed from many years as a Disc Jockey on several radio stations throughout the Monterey Bay area. Jack also specializes in on hold recordings and other voice-over work.  Jack also sings and has played in several Santa Cruz and San Jose-based bands. In addition to being a DJ, Jack works in the office full time. Jack is often requested a year in advance. Jack is also a certified Officiant and can perform wedding ceremonies. Reserve Jack Crawford now and insure the future success of your event. Whatever the request, Jack is ready and able to make your event the best it can be.
E-Mail Jack
jack@musicnowdj.com
---
Stoney V Godet
After a 3 year break from Music Now, Stoney V Godet is back! One of the most sought after DJs here at Music Now, Stoney brings in a hip tone to any event. From youth events, corporate parties, and weddings, Stoney will make your event, the event of a lifetime! He is very well known in the Santa Cruz community. You may have seen him at many of the Santa Cruz Warriors basketball games as he is a VP Concierge at The Kaiser Permanente Arena. Stoney previously started with Music Now back in 1993. After a 3 year leave, he's back, stronger and ready to go. Because of his popularity, we highly suggest requesting Stoney 6 months to a year in advance.
---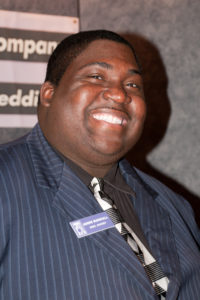 DJ Andre Marshall
We've all heard the term "smooth as silk". In the case of our very own Andre Marshall, this term speaks volumes. With a super pleasant demeanor and wide music knowledge, Andre has been on the Music Now team since 2010 and has taken hold of the reigns to become one of Music Now's most popular DJ's.
Andre's easy going nature mixed with a tenacity for detail has catapulted him to the top of the DJ ranks and he is commonly specially requested many months in advance. If you are looking for that special combination of personality and professionalism, you can't go wrong with Andre.
---
Rob De Hart
Rob De Hart has been performing on stage since the age of 12. His fluent style, charming personality and wit make him one of Northern California's most sought after DJ's. Rob spent 13 years touring with a popular West Coast rock band called "Gotcha" releasing an album that was spotlighted by Bill Board Magazines weekly pick. His Master of Ceremony abilities come from years of being an MC at hundreds of weddings and high end special events throughout California.  His ability to oversee crowds from 50 to 2000 comes to him at no effort with an extremely professional flare. Rob was also President of a Bay Area DJ association besides other prestigious positions within the DJ community.Because of his popularity and performance schedule, Rob should be requested for your event well in advance.
---
---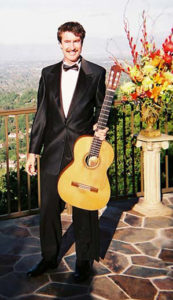 Ken Constable 
Ken Constable is an established guitarist and has played all over the bay area for over 20 years. With 1000s of songs under his belt, Ken will make your wedding ceremony the ultimate life time experience! Check out Ken's website at
www.kenconstable.com